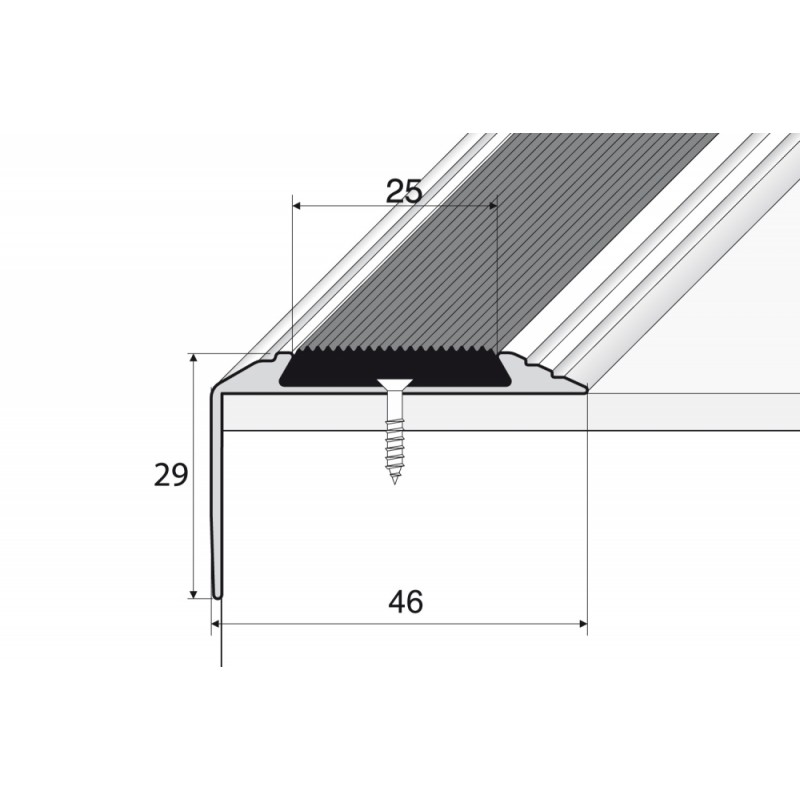  
A38 Anti slip stair profile 46 X 29mm with rubber 25mm
Note – Important ! Applies to profiles 180-270cm long
Dear customers, due to the drastic increase in prices of courier companies (FEDEX and UPS) for the service of shipping oversized products - that is: (over 120 cm), in particular: 180 - 270 cm. In order to maintain and ensure the delivery of products longer than 120 cm to customers, we are introducing sales with a free service of cutting profiles into short ones - previously delivered in a length of 180 cm, but now they can be cut and delivered only with a length of 150 cm. And so far as profiles 270 cm, and now cut in half and sent as 2 x 134 cm.
In case of personal pickup, the availability of the above products: 180-270cm remains unchanged and they are available.
Despite the fact that we have no influence on this, we would like to apologize for any difficulties caused by courier companies.
Unfortunately, their decisions have also limited us and complicated the provision of services as well as the company's operations
Security policy (edit with Customer reassurance module)

Delivery policy (edit with Customer reassurance module)

Return policy (edit with Customer reassurance module)
Attention !!! I think it's important
All our proposed products are in stock in the Netherlands and available immediately.
Made in the European Union.
Aluminium transition profiles, angle profiles, stair profiles and stairway edge profiles with rubber anti-slip strips
,,Wanted'' for safety on the stairs.
Aluminium angle profile A38 with dimensions 46 x 29 mm
There is a rubber strip A38- 46 x 29mm (or two - A37 - 36 x 20mm) in the stair profile that ensures that this stair profile also has an anti-slip effect.
The standard colour of the rubber is black.
These stair profiles are mounted (with screws) on the nose of the stairs.
Anti slip stair nosing prevents accidents